What's New at CEMAR
January, 2014
CEMAR recently completed a study of selected portions of the Napa River watershed for potential flow enhancement projects. The project, funded by the Dean Witter Foundation, found that water storage projects could be developed in important Napa River tributaries and portions of the mainstem river that have the potential to improve and expand steelhead habitat. Questions or comments about the report should be addressed to Gordon Becker or Matthew Deitch.


Upper Napa River
December, 2013
Andy Gunther, Executive Director of CEMAR, and Executive Coordinator of the Bay Area Ecosystem Climate Change Consortium (BAECCC), welcomed 50 ranchers, public rangeland managers, and rangeland experts to a half-day workshop in Livermore on the afternoon of December 4 entitled Managing Rangelands in Increasingly Uncertain Times. The goal of the workshop, sponsored by BAECCC and co-sponsored by the California Rangeland Trust and Alameda County Resource Conservation District, was to bring these groups together to begin to identify conservation strategies to sustain the numerous ecosystem benefits of rangelands that could be at risk in an increasingly uncertain environment, in part due to climate change.
November, 2013
Senior Scientist Matthew Deitch has published his most recent article "Cumulative Effects of Small Reservoirs on Streamflow in Northern Coastal California Catchments" in the international peer-reviewed journal Water Resources Management, with co-authors Adina Merenlender and Shane Feirer. The article examines the influence of several hundred small reservoirs on early-season streamflow in Russian River tributaries, illustrating the usefulness of spatial tools to evaluate cumulative hydrologic impacts in California's watersheds.
CEMAR's work in the Mattole River has begun to produce on-the-ground results. Our science has provided the foundation for water storage tanks at Whitethorn School in southern Humboldt County, so the school no longer has to rely on an instream diversion to meet water needs in summer and fall (photo courtesy of Sanctuary Forest).
October, 2013
Pacific Gas and Electric Company has awarded a community investment grant to CEMAR to begin flow gauging work in select tributaries of the Eel River. The collected data will help us better understand the hydrology and habitat of tributary streams and, long term, help to improve the biological health and productivity of those tributaries. We extend our sincere thanks to Pacific Gas and Electric Company for their support.

September, 2013
CEMAR has had a busy summer. Two of our projects have been written up in magazines, we hired a new employee, and several projects have started. Read all about it in our September newsletter.

May, 2013
CEMAR in the News! The Sonoma Valley Sun recently ran an article discussing a salmonid study CEMAR is conducting in association with the Sonoma Ecology Center and the Southern Sonoma Resources Conservation District. This project is financed under the Safe Drinking Water, Water Quality and Supply, Flood Control, River and Coastal Protection Bond Act of 2006, administered by the California Department of Water Resources, Bay Area Clean Water Agencies, and Association of Bay Area Governments.


March, 2013
Adult steelhead show apparent pre-spawning behavior near the outmigrant trap on Pescadero Creek. This trap is being operated in a partnership between the San Mateo County Resource Conservation District, CEMAR, Alnus Ecological, federal and state resource agencies, local landowners and volunteers.





This 24" steelhead male was collected on his way out of the upper Sonoma Creek watershed as part of CEMAR's outmigrant trapping program.


Steelhead are currently in San Francisquito Creek! Video by Doug Rundle.
February, 2013
CEMAR has released its February newsletter. If you missed it, click here to see the letter and if you wish to subscribe to the newsletter follow the intstructions at the bottom of the newsletter.
January, 2013
CEMAR organized, and the San Francisco Public Utilities Commission (SFPUC) hosted, a confab regarding smolt trapping in Bay Area watersheds. Biologists from the Santa Clara Valley Water District, the Napa County Resource Conservation District, the SFPUC, the East Bay Regional Park District, the California Department of Fish and Wildlife and the National Marine Fisheries Service, as well as biologists trapping in Pescadero and Sonoma creeks this spring, participated in a wide ranging discussion of methods, data analysis, volunteer coordination, permitting and other related topics. The January 15th event proved to be a highly effective collaboration, and produced important information and materials sharing opportunties.
December, 2012
Salmon have been spotted in Grape Creek, in Dry Creek Valley!
Modifications to a culvert on San Anselmo Creek (just below Center Boulevard) are finished. CEMAR's design recommendations include a series of raised baffles and step pools to slow streamflow and improve migrating conditions for fish on this tributary to Corte Madera Creek in Marin County (Photo Courtesy of Sandy Guldman, Friends of Corte Madera Creek). The Before Picture can be seen here.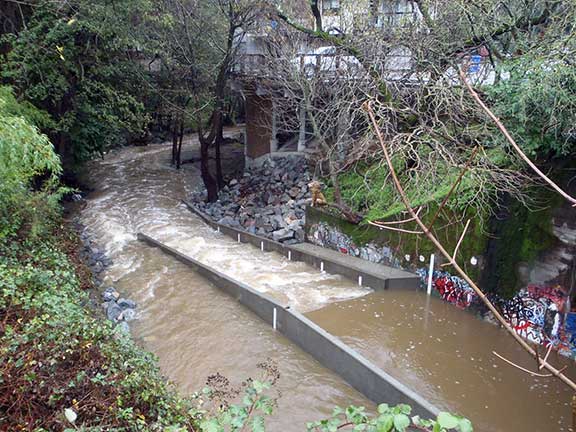 And here's another! The City of San Jose completed modifications, based on CEMAR's analysis and conceptual designs, to a migration barrier in Upper Penitencia Creek (tributary of Coyote Creek) near the Youth Science Institute in Alum Rock Park (Photo courtesy Mike McClintock, Alum Rock Park). The Before Picture can be seen here.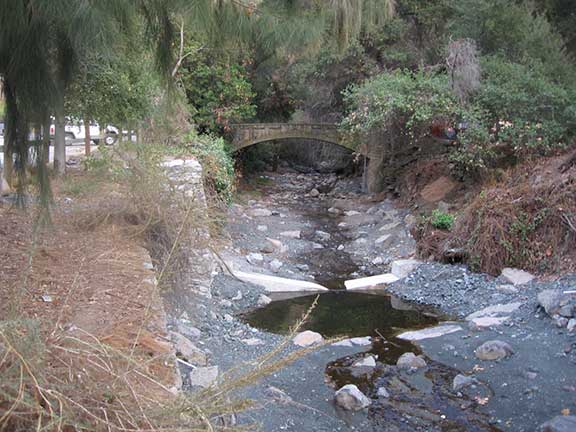 September, 2012
CEMAR's Executive Director Andrew Gunther has been selected to be part of team working on a grant from the Kresge Foundation to develop plans for adaptation to climate change in the Bay Area. The team will examine issues related to development and use of scientific information, social equity, and governance structure.
August, 2012
Steelhead trout will have an easier time returning to Corte Madera Creek in Marin County with the modification of a large culvert in San Anselmo. The original engineering designs for this modification (and four others in the Bay Area) were developed through CEMAR's Passage Improvement Program with support from the California State Coastal Conservancy, the Giles and Elyse Mead Foundation, and the Bella Vista Foundation.
July, 2012
CEMAR Executive Director Andrew Gunther co-convened a symposium at the North American Congress of the Society for Conservation Biology entitled Science as a Second Language: Getting Science Used by Policymakers, Practitioners, and the Public. Dr. Gunther spoke at the symposium (held on July 17th in Oakland) regarding the need for scientists to with policymakers and practitioners to encourage informed decision making, using the Bay Area Ecosystems Climate Change Consortium as an example.